Main Window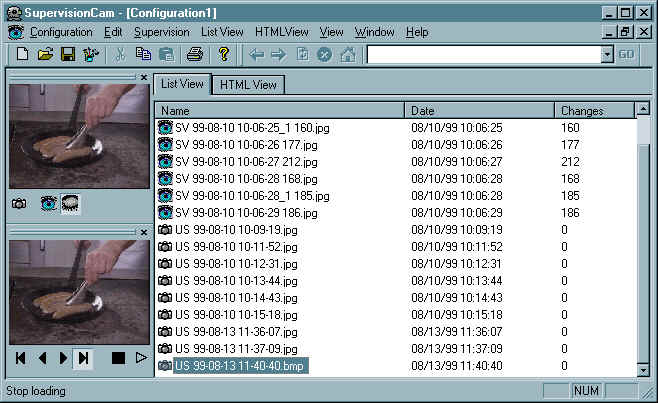 Video Window (top left)
The Video Window shows the current camera view. If the box is empty or contains an error string you should check your configuration settings and your video device.
With the first button below the preview window you can take a photo of the current camera view. The photo will be listed as US (user select) in the List View.
The two other buttons can be used to manually start or stop the supervision function.
With a right-mouse-click you open an additional menu with additional functions. Please note that the overlay mode is only availablefor some capture devices.
View Window (bottom left)
The View Window can be used to review the saved images. The first 4 buttons below the preview window can be used to navigate through the items of the List View table: Go to Top, Previous, Next, Go to End.
With the last two buttons you can Stop and Start a slideshow view of all images from the current position to the end of the list.
With a right-mouse-click you open an additional menu with additional functions.
List View
The List View lists all captured images. The icon identifies the type of image: User select, Supervision or Time scheduled. Additionally you will see the date and the time that the event happened and the number of the registered changes when the event happened. The lists can be sorted by clicking on Name, Date or Changes at the top of each list. You can also use a right mouse click inside of this window to open a popup menu with important functions.
Time View
This view displays a horizontal time axis and vertical lines that represent images with their calculated number of changes. Images that are captured time scheduled or by an external trigger are displayed in a different color.
HTML View
This Window shows a preview of the current HTML page generated with the HTML generator. This window also works as a standard Web viewer and you can view other HTML pages.